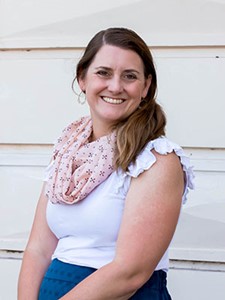 Video gaming played competitively, or esports, has grown in such popularity that universities, including East Tennessee State University, have established their own teams to compete against similar lineups at peer educational institutions. esports is also piquing the interests of university researchers and those in marketing and communication.
That is why Dr. Mimi Perreault, an associate professor in the Department of Media and Communication at ETSU, said she took the opportunity to contribute a chapter on the news coverage of esports to the "Handbook of Research on Pathways and Opportunities Into the Business of esports," published earlier this summer.
"I was working on a paper on esports because I was interested in how it intersected with my work in journalism and video games, so this seemed like the perfect outlet," said Perreault. "This study is relevant as esports is a growing area of interest to many media and communication scholars."
In the study, Perreault, who also studies journalism and mediated messaging, explored the evolving ways in which esports were covered in major U.S. business news publications, including Forbes, Business Insider and The Wall Street Journal. The study examined how those publications discussed the advent of esports as a mainstream sport in 2018 and found that journalists covered them in a variety of ways, from lifestyle, to art, to sports.
Perreault said it was because of her observations of the trends in esports and video game marketing that she became interested in further exploration, having done work on news coverage and marketing of sports and video games which helped her situate herself in the world of esports.
In 2019, ETSU announced plans to form a varsity esports team, and renovations at D.P. Culp Student Center included the installation of a state-of-the-art varsity esports arena. Perreault, who joined the faculty that year, said this is one reason contributing to the chapter piqued her interest.
"Last fall, I saw a call out from two professors from the University of Houston looking for book chapters that had to do with esports and marketing and thought I would work on that," said Perreault. "I was able to obtain a body of articles with the help of Dorothy Carner, my former research librarian when I was a Ph.D. student at the University of Missouri."
Soon after, Perreault and her co-researcher and husband, Dr. Gregory Perreault, an associate professor at Appalachian State University, submitted their work.
"We were honored to write about a topic that has not been examined by many scholars in our field, but also one that is growing in relevance," she added.
The paper was also accepted and presented earlier this month at the conference of the Association for Education in Journalism and Mass Communication, a nonprofit, educational association of journalism and mass communication educators, students and media professionals, in its sports communication division.
In addition, Perreault has published two articles in Games and Culture, a journal for video game research. For more information, contact Perreault at perreault@etsu.edu.
Please follow and like us: